Growing Your Business and Network in a Virtual World: A Multidisciplinary Panel Discussion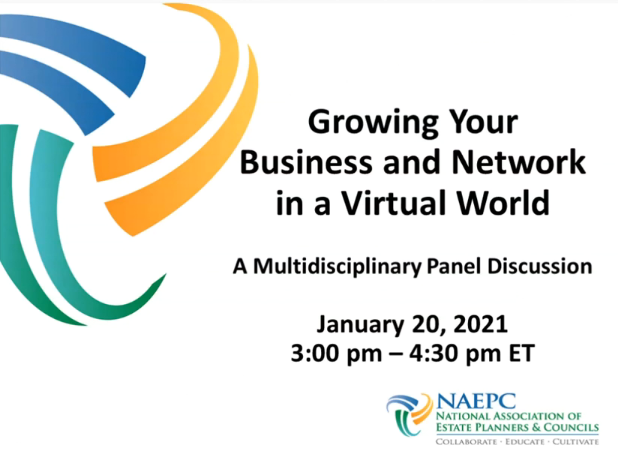 Has the global health crisis and the acceleration of an online environment changed the way you market your services and advise your clients? Do you have the technological tools to communicate effectively with your current network? Are you looking for ways to expand your reach? This unique multi-disciplinary panel discussion teaches strategies for interacting with your clients in the rapidly growing virtual space from experts in the technology, legal, trust, insurance and financial planning, philanthropic, and accounting practice areas.
Learn more about the Robert G. Alexander Webinar Series.
Moderator: Martin M. Shenkman, CPA/PFS, MBA, JD, AEP® (Distinguished)
Panelists: Dean DeLisle, Founder and CEO, Forward Progress; Thomas M. Forrest, TO, AEP® (Distinguished); Bronwyn L. Martin, MBA, ChFC®, CLU®, CLTC®, CRPC®, CFS®, CMFC®, AEP®, LACP, AIF®, CFS; Ginger F. Mlakar, JD, CPA, AEP®; Gregory E. Sellers, CPA, AEP®
Please complete the following form to gain immediate and free access to the requested video: